Wooden Etched Tweet: Small
$50
Free US shipping! 🔥
I'm gonna shoot straight with you. There may be nothing on earth that your body needs more than a wooden laser etched tweet of your choosing. Seriously. You think I'm joking and using funny marketing jujitsu on you, but I'm not. You objectively need this in your life.

Tweets are a magnifying glass into the hearts of mankind and what better way to get a glimpse than to obtain this piece of folklore?

Simply send a link to the tweet you'd like etched (it can be any public tweet in all the land) and we'll use lasers and fire and smoke and magic to permanently etch that tweet in to a beautiful piece of basswood plywood.

Each tweet comes with a lovely wooden stand. You don't have to use it, but you know...optionality.

All tweets are 7 inches wide and 4 inches tall.

NOTE: Due to size and technology limitations, we're not able to etch the photos or emojis in tweets. We can modify any tweet to remove photos or emojis, though. If you have any questions about what's possible, just email us: hello@lasertweets.co.
---
---
Customer Reviews
01/25/2021
Mark P.

United States
Inspirational Tweet + Lasers = YES!
This tweet came out great and is just the right size for display on a desk, fitting nicely behind my keyboard while not blocking my monitors. The quality is even higher than I expected... super precise etching on a pleasantly light piece of wood. Pick your fav tweet and get this thing done.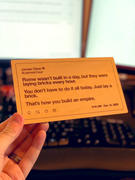 01/25/2021
Mark B.

Canada
Perfect Gift
Got this as a gift for a friend who is Very Online, and they love it. He says it's "an absolutely incredible gift that makes my self-indulgence not just tangible but a permanent staple of my apartment." Highly recommended!
01/25/2021
Meghan W.

United States
Amazing gift
My boyfriend was shocked and surprised with this gift. I was shocked and surprised with the quality - it really looks amazing and the stand is perfect for displaying it on our desk. Thank you!